BoincSpy V4.5.1
BOINCSpy is a program to view BOINC and Folding@Home client information.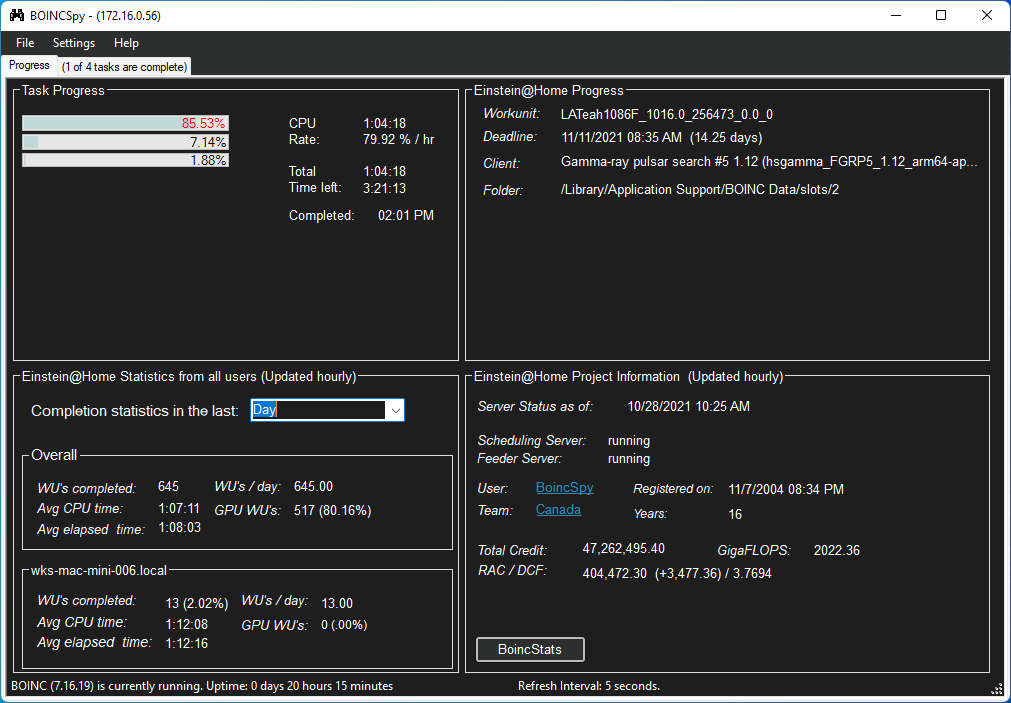 Prerequisites:

Before using BoincSpy you must have .NET Runtime 6.0 installed, instructions are defined in the installation sections for each supported platform.
Have BOINC or Folding@Home installed.
Whats New in Version 4.5.0

Moved to Dotnet Framework.
Ability to monitor Folding@Home project.
DarkMode implemented.
BoincsSpy Viewer can remotely connect to other BOINC clients. You have the ability to view progress on non Windows platforms.
Updating of software has been revamped.
Switched from WCF RPC framework to DOTNET gRPC. ( Faster and encrypted ).
Notes:
Converting to gRPC has caused some older OSs not longer to work. OSs that are no longer supported Windows 7, Windows Server 2012, versions older than macOS High Sierra.
To view the BOINC user's page you must have logged in with the Remember account key on this computer option clicked.
To connect to remote boinc computers the remote computer must allow remote connections (gui_rpc_auth.cfg) and allow the computer to connect (remote_hosts.cfg)
When you connect to a remote computer BoincSpy will remember the password for that computer. Boinc Manager asks you to enter the password each time.
To view data from the BoincStats you may need to change your settings for a project to consent to you that you need to give to export your statistics to BOINCStats.
To do:
Further improvments to the updating software. IE notifications for non windows platforms.
Figure out a BoincSpy.Viewer equivalant for non Windows platforms. ( IE .NET MAUI, build in web browser like folding at home, or Uno platform )
Issues:
Cannot remotely connect to Folding@Home.
Installation instructions for the following.
BoincSpy executables.
The following executables comprise BoincSpy:
\bin\BoincSpy.MQRabbitSender.exe - Sends completed workunits to the cloud.
\bin\BoincSpy.Viewer (Windows only, working on other platforms) - Views current project / task status as well as analytics.
\bin\BoincSpy.ArchiveLogFiles - Compress and archive .log files generated.
\bin\BoincSpy.AutoDeploy - Updates BoincSpy to latest version.
\bin\BoincSpy.Setup (Windows only) - Initializes BoincSpy.
\bin\BoincSpy.Setup.Console (Non windows platforms) - Initializes BoincSpy
Files created on local machine.
The following files are created / used by BoincSpy:
\data\localqueue\wus.dat - Stores completed workunits if for some reason the cloud servers are having issues.
\data\rank.json (Windows only) - File is use to record credit / rank for projects. Updated daily at midnight local time.
~/.mono/registry/ (non windows platforms) - emulates Microsoft.Win32 Registry
Analytics
BoincSpy uses the cloud to store results. The reason for this to provide analytics to the user that cannot be currently provided by the projects. Analytics that are currently being reported. You must have enabled cloud storage option for the analytics to be displayed.
Number of GPU workunits completed.
Average CPU / Elapsed Time for workunits.
Number of workunits completed in a certain Time Frame ie ( day. week, etc intervals )
Well that's it for now and enjoy.
If you have any questions/enhancement ideas please contact me : Bob McMillan
Last Updated: December 03, 2021 11:33